Nicotine Free After Day 3
The most effective method to beginning your Nicotine free life is to remove all Nicotine molecules and their metabolites completely from the system. This can be achieved with our 3 day Nicotine Detoxification Program. The 3 day Program consists of a three-part system of our all-natural pre-cleanse tablets, a regiment of fluids, and our anti-toxin solution. Easy to follow instructions, no special diets, and guaranteed results.
Nature can now take its course by allowing all the toxins to be released from your body and at the same time replenishing your system with all natural vitamins and minerals. This process is completely natural and a safe and effective way of removing all nicotine from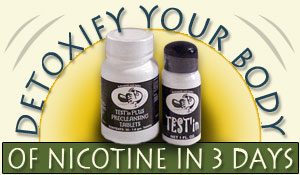 one's system. After completing the cleanse you can now start enjoying all the benefits of non smoker's from better health and well being to lower rates on your health and life insurance. If you have any further questions please feel free to contact us at info@nicotinefreelife.com.
2 Free Nicotine Self Test Kits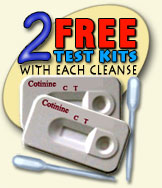 To ensure your system is completely free of all Nicotine Metabolites, we include 2 free self test kits so you may test yourself after completing the cleanse. Each test kit will test for the Nicotine Metabolite Cotinine to ensure extremely accurate results. Cotinine is the chemical produced by the human body after it has been exposed to Nicotine.

Nicotine Detoxification Program$59.95 Order Now
We also offer Nicotine home test kits sold separately so you can test yourself or loved one.
Self Test Kit$3.95 Order Now

2 Day Supply of Pre-Cleanse Pills
1 Bottle of Anti-Toxin Solution
2 FREE Self Test Kits
Easy to Follow Instructions
24 Hour Customer Support Line
Free Shipping
Same Day Shipping before 3PM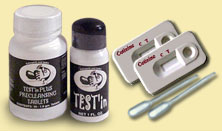 Nicotine Detoxification
Program - Extreme $89.95 Order NowThe standard Program works excellent for moderate to heavy smokers. For those who are exposed to extreme nicotine levels in excess of more than a pack a day, our Nicotine Detoxification Extreme Program was designed specifically for you. Removes all Nicotine and Cotinine in 5 days. 2 Free test kits included.
Why Other Programs Fail
Current programs designed to help people stop smoking consist of Nicotine Gums, Patches, Pills, Lozenges, and Inhalers. They all have one thing in common; Nicotine. Even though they do not replace the Nicotine with anything else except a lower dosage of Nicotine delivered into the body through various methods, they are still referred to as Nicotine Replacement Therapies (NRT). These programs should be called Nicotine Reduction Therapies as they are a bit misleading. The human body starts going through physical withdrawals when Nicotine is still present in
8 out of 10 NRT users will relapse within one year
reduced doses. In order to help with the withdrawals, the Nicotine must be completely removed from the system. Using NRT and keeping Nicotine in your system is obviously not an effective method of getting Nicotine out of your system. They will only cause prolonged and repeated physical withdrawals. Even the NRT manufacturers own studies show that 8 out of 10 NRT users will fully relapse within a single year.
The Benefits of Quitting
The benefits that come with giving up smoking are miraculous. The first benefit you will begin enjoying is saving money. With most cigarettes ranging around $6.00 per pack, smoking just 1 pack a day can cost almost $2,190.00 a year. Not only will you save money from the packs of cigarettes you are no longer buying, but now you have other doors that have opened up like getting a non-smoker rate on health insurance. With a now Nicotine free system you will have no problem securing a non-smoker health insurance rate.
The 1990 Surgeon General's Report concludes that after 1 year off cigarettes, the excess risk of heart disease and sudden death caused by smoking is reduced by half. After 15 years of abstinence, the risk of heart disease is similar to that of people who've never smoked. In 5 to 15 years, the risk of
stroke for ex-smokers returns to the level of those who've never smoked. Male smokers who quit between ages 35 to 39 can add up to 15 years to their life while female quitters in this age group can add up to 12 years. Men and women who quit at ages 65 to 69 increase their life expectancy by up to 3 years.
Smoking and second-hand smoke increases risk of disease and serious illnesses such as flu and colds, ear infections, asthma, bronchitis, and pneumonia just to name a few. Children around smokers are also sick more often than those who are not exposed to a smoking environment.
Aside from complications that can be avoided by quitting, many also enjoy sharper taste and smell, whiter teeth, brighter eyes, as well as improved energy and wellness.